We have been busy analysing how the e-commerce market is changing in response to consumer demand amidst the current health crisis. Our CEO, Mazen Hallaway explains what we found and shares advice for Amazon vendors and sellers, as featured on AME info.
Like many countries across the world, the UAE is temporarily on lock-down with most of the population self-isolating. Today's new "cocooning" reality is propelling significant e-commerce growth rates.
It will not be surprising to see 2020 surpass the e-commerce boom of 2019 – which was heralded as the year of online shopping for the UAE.
The growth we are seeing on amazon.ae is likely coming from both new customers shopping online, as they don't want to enter brick and mortars, as well as existing customers who are stocking up. Although surges in demand is not unusual for Amazon; we all know Prime Days and Black Fridays regularly drive huge spikes in sales after all. But this Coronavirus has become a catalyst for the biggest spike yet – which we are already seeing in our data.
Our intelligence shows overall retail sales in the hand sanitiser category is up a huge 244% in March compared to February. In the same period the soap subcategory also experienced a pickup– especially in this region.
We can also see that while on amazon.com soap sales were up 16% in the first week of March, amazon.ae had a 50% increase in the same period – demonstrating the new mass adoption of e-commerce in this region.
Here is our advice to seller on Amazon. A seller should prioritise Amazon above other channels, because of the organic search and advertising algorithm used. Amazon penalises products for being out of stock for a long period of time. If sellers are to go out of stock the impact in the short term will be ranking loss, thereby market share drop. But if a product is out of stock for 30+ days, the algorithm will essentially erase your history and treat you as a new product.
An example of this is shown in our latest report that explores the change in the last week of February to the first week of March. During this short time Dr Bronner's, who was the outright market leader in the soap category, but then dropped half of its market share at the beginning of March, because it became out of stock.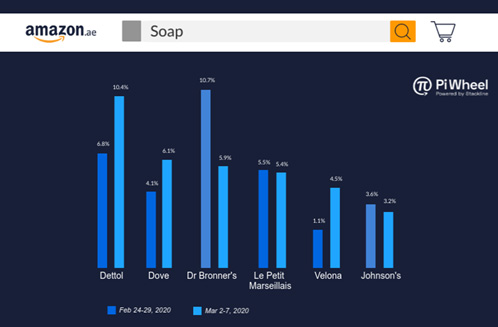 Atlas, one of our technology products available provides detailed category and brand intelligence data across the entire amazon.ae platform. In our reports it shows us that new players are entering amazon.ae since the increased demand for soaps and sanitisers. This has had a game-changing effect on market shares. The hand sanitiser subcategory is a text-book example of this.
Purell was the dominant market leader claiming 65% market share in the hand sanitiser subcategory at the end of February; but in the following weeks they lost over 30% of their lead to challengers Dettol and 5 other newcomers – Swish, Gardenia and Pex together taking a significant 29% of total market share.
Additionally, in the same period, the hand wash category had a 71% expansion in the number of products available. But, despite the increased competition caused by category expansion, there is one stand out brand emerging.
Since the coronavirus outbreak Dettol has been dominating. It is a trusted well-established hygiene brand in the UAE. It is the only brand to have increased market share or claimed first position in all relevant hygiene subcategories, at the same time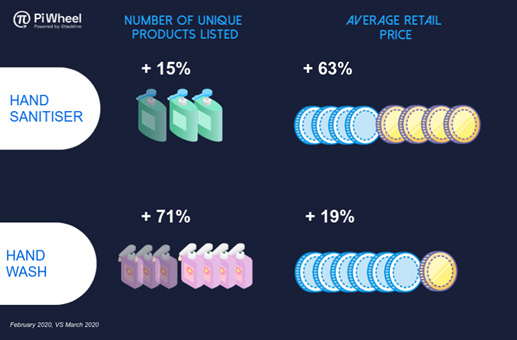 In addition to ensuring stock availability, we also suggest brands look at optimising their product content with best practice, to benefit from the additional site traffic.
As the biggest marketplace in the world, it's easy to get lost in the mix of Amazon search pages. Without using high volume keywords, your product may not appear. Our PiWheel technology uses a variety of data points to gather both primary and, little know background keywords, used in each specific category.
While Amazon is not immune to the pandemic – as seen earlier this month when their stocks fell.
If Amazon is able to successfully serve their new and returning customers during this crisis, it will accelerate the adoption of e-commerce even further with Amazon becoming an even more dominate force.