Amazon offers a variety of advertising solutions to grow businesses and brands of all sizes by helping them to reach customers at every stage of their journey and achieving their advertising goals.
To empower vendors and Brand registered sellers, Amazon built a solution called Amazon Sponsored Display: a (relatively) new Amazon paid advertising program that gives sellers access to self-service advertising tools that they can use to reach customers both on and off Amazon.
In this article, we'll explain how Amazon Sponsored Display ads work, and how you can leverage its features to scale your business.
Let's dive right in:
What are Sponsored Display ads?
Amazon Sponsored Display ads gives sellers the ability to reach relevant audiences via display ads across various Amazon pages, competitor listings and Amazon's third-party display network website and apps.
The main objective of these ads is to target customers that:
Previously bought or viewed your product
Previously bought products in the same category or a category related to your product
Their shopping behavior suggests they could be interested in your product
Sponsored Display ads are retail aware, meaning, they only show when your products are in stock and the Featured Offer, the ads will automatically stop if your products are out of stock or not the Featured Offer.
Plus, Sponsored Display ads can help increase your presence in multiple channels to keep your brand and products top of mind for shoppers looking to buy.
Who is eligible?
Sponsored Display Ads are currently available to professional sellers enrolled in Amazon Brand Registry, vendors, and agencies with clients who sell products on Amazon. Your products must fall under Amazon's eligible categories to advertise.
What Are the Benefits of Sponsored Display Ads?
The main benefits of Sponsored Display Ad Campaigns are:
Reach relevant audiences: Display ads will appear for customers who are browsing, discovering, or purchasing products on or off Amazon. That means you can target people who are interested in your products and are more likely to consider your offer.
Control costs: Sponsored Display ads only show when products are in stock and you pay when customers click on the ad, so you can have total control of your budget and bids.
Build awareness and streamline traffic towards your page: This is possible by showing your products in broad categories relevant to your products.
Boost exposure for new product listings: Since you can place your ads under your competitor's listing, you can put your best products against their best products.
Target customers outside Amazon: Sponsored Display ads are not bound to Amazon websites. After a customer has done a relevant search, display ads for your products will appear on third party websites. This means you can re-engage and re-target your customers on these sites.
What is the difference between Sponsored Display ads, Sponsored Brands and Sponsored Products?
One major difference between Amazon Sponsored Display ads and Sponsored Products and Sponsored Brands is that they are not based on keyword searches to target audiences.Sponsored Display ads do not use keywords, they can effectively target audiences based on their interests, shopping behavior and who are already interested in your product.
Another difference is where the different type of ads appear:
Sponsored Brand and Sponsored Product ads appear at the top of the first page of keyword search results on Amazon.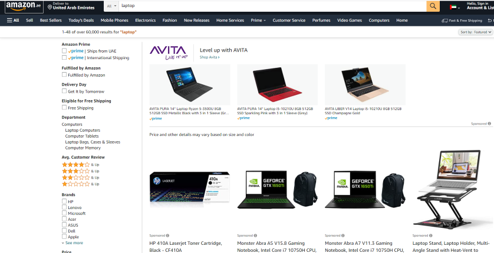 The Amazon Sponsored Display ads may appear both on and beyond the marketplace: on the Amazon home page, search results pages, product detail pages as well as third-party websites and apps.These ads are displayed on both desktop and mobile devices based on the audiences or the product targeting strategy of your choice.
In this example, the Sponsored Display ad appears right below the product description on a competitor's listing.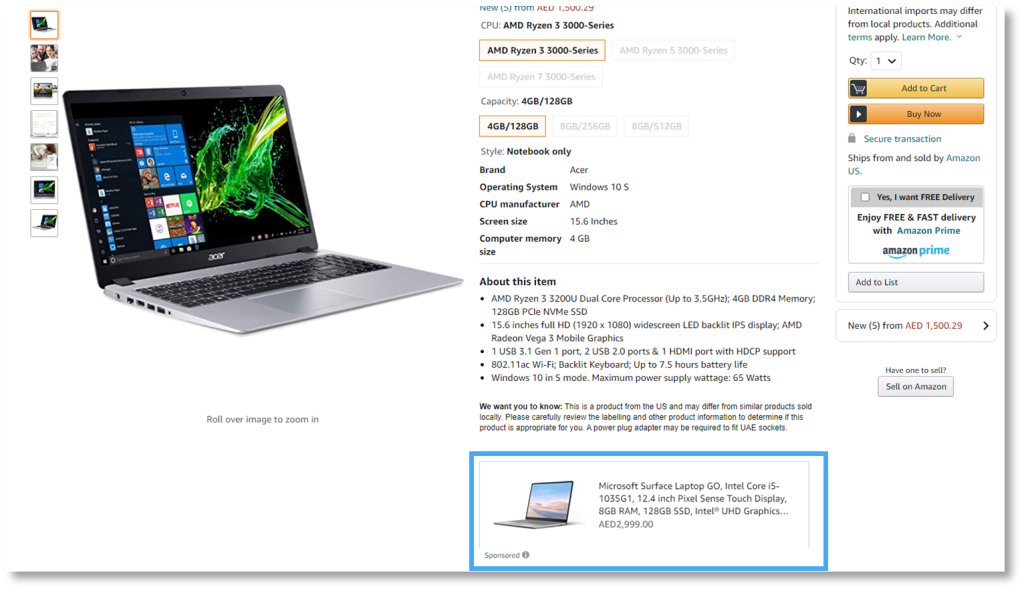 In addition, Sponsored Display Ads are unique in that they will appear on sites other than Amazon. They can appear on any Amazon-owned or partnered website and are usually in the form of banner ads.
How much does Sponsored Display advertising cost?
Sponsored Display ads are purchased on a CPC (cost-per-click) basis. There is no minimum spend or bid thresholds. Advertisers set their daily bid and budget, and bids automatically adjust based on likelihood of conversion, with the option to change the bid or pause the campaign.
How to create Sponsored Display ads
Creating Amazon Sponsored Display ads is simple and requires completing a few simple steps:
Go to amazon.com and click on "Solutions"
Select Sponsored Display and then click on "Get Started".
You can also navigate to Campaign Manager from your Seller or Vendor Central account and select "Create Campaign".
Choose your campaign type – Select "Sponsored Display" out of the three available options.
Create your campaign – Choose a product to advertise by either typing its name or ASIN
Give your campaign a name, set the start date and end date, and choose a daily budget.

Create an ad group – Give your ad group a name
Audiences – Views re-marketing:
If you want to target high-intent audiences, views will help you reengage audiences that have viewed the detail pages of your products or similar products, or within a chosen category on Amazon in the past 30 days but have not purchased your advertised products.
Eligibility: This targeting option is only available for Vendors, sellers enrolled in Amazon Brand Registry (currently not available in IN or JP).
Audiences – Interests:
If you want to boost brand awareness and recognition, this targeting option is for you as it will help you to reach new audiences who might be interested in your products or that fall within similar interest segment in the past 90 days.
Eligibility: This targeting option is only available for Vendors.
Product Targeting:
If you're looking to drive consideration or cross-selling, this type of targeting can help you to reach customers who are actively browsing your products or similar products and categories. This can help you to target similar or complementary products or drive consideration among those viewing competitors.
Eligibility: This targeting option is only available for Vendors.
8. Once you choose the targeting option, choose the products you want to advertise and set the amount you are willing to bid to win the placement where your ad will appear.

You have the option of customizing your ad creatives or letting Amazon automatically generate the ad creatives for your campaigns (based on the targeting strategy). You can add a custom logo and headline for product targeting creatives.
Ad creatives are automatically generated and include a product image, pricing, deals and savings badging, star rating as well as a "Shop Now" button that redirects the shopper to your product detail page.
9. Preview your Sponsored Display Ad and then submit.
Best Practices
Add your product catalog to the campaign, and set up the campaign structure over time
Choose ASINs that have low brand awareness and showcase those against competitors who are market leaders in the space to boost reach and hijack competitors' products
Choose ASINS of your best-selling products or new products and create a campaign targeting competitors ASINs, with copy and images that highlight different features vs your competitor's product.
Make sure your campaign has enough budget and track the campaign frequently to avoid missing out on potential impressions
Monitor campaign performance regularly
Measure your campaign's performance and adjust the bids based on performance goals
Conclusion
Sponsored Display ads gives you the opportunity to increase your reach and re-target customers who've viewed your product listing off Amazon but didn't complete the purchase. If you have a full understanding of who your perfect customer is and how to target the right audience, Sponsored Ads is the right option for you.
To learn more about how to optimize your content download our 'Amazon Content and SEO E-Book' for free.
For a free demo of our Beacon and Atlas technology or discuss content and seller services, get in touch for to book an e-meeting.